Photo Booth of the Stars is ready for the 86th Academy Awards are this Sunday, March 2nd.  According to Oscars.org the first ceremony was held in 1929 at a private hotel banquet where 270 people attended.  The winners were announced ahead of time and it only cost $5 to enter the awards.  They have definitely came a long way today considering the swag bags alone are worth $80,000 in gifts.  But the real gift is taking home one of the highest achievements in film-making – the Oscar statuette.
What a gorgeous photo booth prop one of these bad boys would make!  Weighing in at 8 ½ pounds with a height of 13 1/2 inches we'll take it!  For those of us that will not be in attendance at the actual awards show we can at least get in on the fun!  Host a pj's and pearls Oscar viewing party like the girls over at the Lauren Conrad blog did for 85th Oscars. 
You can purchase their collection of elegant Oscars printable PDF files over at the blog which will add a pretty feminine touch to your pj party and get you in gear for the awards!  We all know it's not a party unless there is a photo booth for you and your guests to cut loose and make some fun memories!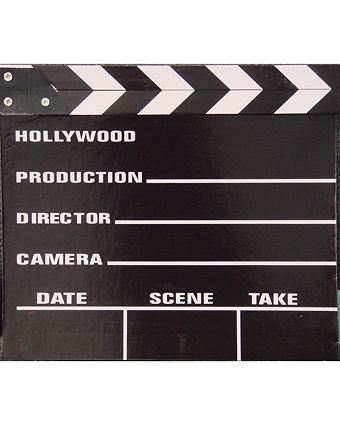 Get your Photo Booth Props ready for action!  We love this large movie clapper board but you can use anything Hollywood and movie related in your photo booth rental!
We found these fun movie prop printable PDF files on Etsy that will have you ready to strike a pose in the photo booth.  They will also personalize the director's clapper and the "now showing" sign to your liking. 
One way to get everyone in on the Oscar buzz is to have a really fun game to hold everyone's attention during the awards.  Try Bingo, the Oscar's edition to play along with during all of the red carpet coverage, after all isn't that the best part of the awards? 
Don't forget about the swag bag for your guests to take home.  It may not be the $80,000 in gifts that the celebs get to take home this year but we can all dream can't we?  Here's what they receive thanks to The Stir:
$2,700 O-Shot procedure, which "rejuvenates and enhances the genital tissue of a woman."
$16,000 for hair restoration surgery using ARTAS Robotic Hair Transplant system
A two-day rail journey on the Rocky Mountaineer luxury train, which includes an overnight stay in Vancouver, worth $6,850
$15,000 walking tour through non-touristy spots in Japan
$9,000 Best of Las Vegas trip, which includes a face-to-face meeting with Boyz II Men
$3,300 in resort stays at the Imanta resort in Ocean Casa
5-night stay at the Koloa landing resort in Kauai, worth $2,000
10 personal training sessions with Huntley Drive Fitness, worth $850
$59 of portion-conscious dinnerware from Slimware
$40 of weight loss products like Hydroxycut gummies, protein bars, and shakes
$2,560 Steamist Total Sense Home Spa System
$4,895 Krystal Klear Water's house water filtration system
$7,706 in pet products, including a year's supply of pet supplements and a $6,100 donation to the pet shelter of the celeb's choice
$280 worth of organic maple syrup and an adoption certificate of a maple tree in Notre-Dame-Des-Bois
$95 worth of horse shampoo made for people
$120 in Mace pepper spray guns
$279 Narrative Clip automatic camera
Photo Credit: www.oscars.org, laurenconrad.com,  anytimecostumes.com, thepartyevent.files.wordpress.com, SecondCitySoiree.com
Author:  L. Fulton-EventsbyL