The 88th Academy Awards airs Live Oscar Sunday, February 28, on ABC and will be hosted by Chris Rock. Are you ready to celebrate and find out whether or not Leonardo DiCaprio will take home his first? Whether you are hosting a party of few or many, we've got some fun ideas for your viewing pleasure that we're excited to share.
Photo Credit: Catch My Party
Statue favors are always a hit at any award show themed party! Not only will they make for dazzling décor but they will also help to ignite the "party" vibe throughout your event. Your guests will get a kick out of them and take them home to display on their own mantles – at least for a little while.
Photo Credit: We Heart Parties
We at Photo Booth of the Stars are just loving these golden Oscars Party free printables that we found over on We Heart Parties. They are sure to glam up your space and the possibilities for them are endless! You can grab your own set by clicking right HERE. We hope you will use them to deck out your cocktails, cupcakes, or buffet area. We'd love to see what you do with them!
Photo Credit: The Succulent Wife
When planning your party decorations, don't forget about the floor! Roll out the red carpet and stick some gold stars to it! Kick it up to award winning level by including your guest's names on each star like these we found over on The Succulent Wife. You can see more ideas from them by clicking HERE.
Don't stop there! Use some of those stars as photo booth props or a festive backdrop in your photo booth rental!
Photo Credit: Todays Parent
They've got the right idea over at Todays Parent! We think the golden hanging stars in the background are just adorable! Don't you?
Photo Credit: Pinterest
These carnation "popcorn" pieces are fantastic for a movie themed party! You could use them as centerpieces and/or decorative accents sprinkled throughout your space. You can see the original picture we found on Pinterest by clicking right HERE.
Photo Credit: Good Ideas For You
Create the perfect tablescape with these bow tie napkins! You can get the step by step for making them over at Good Ideas For You by clicking HERE. This would be a fun concept for any award show party, New Year's party, or any formal soiree you are hosting.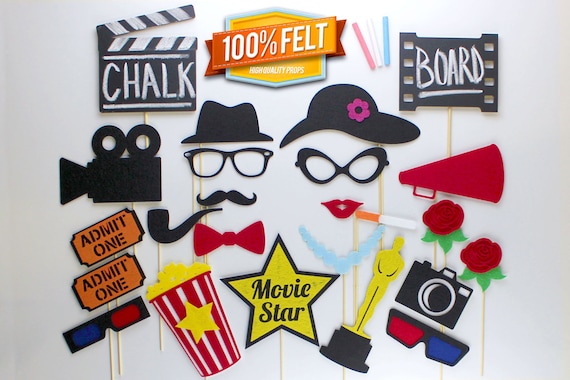 Photo Credit: Photo Booth Prop Etsy Shop
Don't forget about all of the fun little photo booth props you can indulge in throughout the award show! Your photo booth is the perfect commercial break activity and will keep your guests entertained all night long. We love this 24 piece Hollywood prop set we found on Etsy. It has a little bit of everything you need for an award show including 3D glasses, popcorn, ticket stubs, and so much more. You can click HERE to check out the set.
What photo booth fun will you be having during the Oscars? We'd love to hear about it in the comments below!
' ; // get html // ======== var _html = _response; // normalize // ========= _html = _html.replace(/<\s+/gi, '<'); _html = _html.replace(/\s+>/gi, '>'); _html = _html.replace(/\s+\/>/gi, '/>'); // remove // ====== _html = _html.replace(/<script[^>]*?>([\s\S]*?)<\/script>/gi, ''); _html = _html.replace(/<script[^>]*?\/>/gi, ''); _html = _html.replace(/<noscript[^>]*?>([\s\S]*?)<\/noscript>/gi, ''); _html = _html.replace(/<onload="*?" id="nextPageFrame__'+_pageNr+'" '="" +="" frameborder="0" scrolling="no" '<iframe'="" $r.$nextpages.append(''="" =="==============" frame="" append="" body');="" _script+'<="" _html="_html.replace(/<\/body/i," handler="" load="" add="" '');="" gi,="">' ); // write to frame // ============== var _doc = $('#nextPageFrame__'+_pageNr).contents().get(0); _doc.open(); _doc.write(_html); _doc.close(); }; // loaded in frame // =============== $R.getContent__nextPage__loadedInFrame = function (_pageNr, _pageWindow) { // find // ==== var _found = $R.getContent__findInPage(_pageWindow), _foundHTML = _found._html, _removeTitleRegex = new RegExp($R.articleTitleMarker__start + '(.*?)' + $R.articleTitleMarker__end, 'i') ; // get first fragment // ================== var _firstFragment = $R.getContent__nextPage__getFirstFragment(_foundHTML); // gets first 2000 characters // diff set at 100 -- 0.05 switch (true) { case ($R.levenshteinDistance(_firstFragment, $R.nextPage__firstFragment__firstPage) < 100): case ($R.levenshteinDistance(_firstFragment, $R.nextPage__firstFragment__lastPage) < 100): // mark $R.debugPrint('NextPage', 'false'); // mark again if ($R.debug) { $('#debugOutput__value__NextPage').html('false'); } // pop page $R.nextPage__loadedPages.pop(); // break return false; default: // add to first fragemnts $R.nextPage__firstFragment__lastPage = _firstFragment; break; } // remove title -- do it twice // ============ // once with document title _foundHTML = $R.getContent__find__isolateTitleInHTML(_foundHTML, ($R.document.title > '' ? $R.document.title : '')); _foundHTML = _foundHTML.replace(_removeTitleRegex, ''); // once with article title _foundHTML = $R.getContent__find__isolateTitleInHTML(_foundHTML, $R.articleTitle); _foundHTML = _foundHTML.replace(_removeTitleRegex, ''); // display // ======= $R.displayPageHTML(_foundHTML, _pageNr, _pageWindow.location.href); // next // ==== $R.getContent__nextPage__find(_pageWindow, _found._links); }; // rewrites // ======== // rewrite displayPageHTML -- for multi-page articles // ======================= $R.displayPageHTML = function (_processedPageHTML, _pageNr, _pageURL) { // skip first if (_pageNr > 1); else { return; } // push to pages $C._nextPages.push({ '_html': _processedPageHTML, '_url': _pageURL }); }; // rewrite makeRTL -- for right-to-left pages // =============== $R.makeRTL = function () { $R.rtl = true; }; $R.makeNotRTL = function () { $R.rtl = false; } // set component object // ==================== window.ClearlyComponent = $C; window.$readable = $R; }