Chicago weather is expected to heat up again this weekend! Sounds like the perfect opportunity to host a pool party!
A pool party is a great way to entertain groups of all ages. If you don't have your own pool take advantage of all of the pools open near you this summer and make your life even easier by not having to clean you home before and after the party.
Be sure to check in with your pool or club beforehand to see the rules and regulations of groups and to see if you can bring your own snacks and beverages for the party. You may have to rent out the pool or a section for a small fee but you will be sure to make a splash among your guests.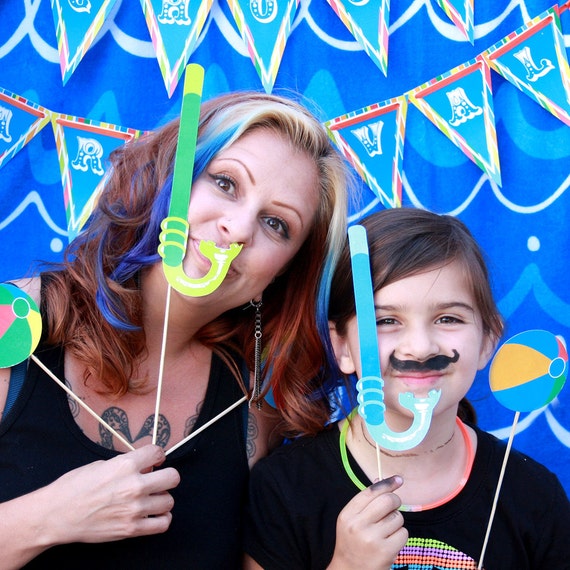 Photo booths are a must at every event and a pool party is no exception. Be sure to get some photo booth pool swim party printable props for your guests to have some fun with and get crazy in the photo booth rental.
We found these printable photo booth props on Etsy of course on Paper&Cake and you can just print, cut and PARTY! These will really make your photo booth pictures pop!
The props include:
Mustaches (3 styles) Lips (3 styles) Lifeguard sunglasses Lifeguard badge and lifesaver Dive Mask & Snorkel Swim Goggles Beach Balls Pennant Banner + Signage +
What's even better than photo booth props? Customizable photo booth props! The pennant banner and signage are all customizable so you can easily personalize them on the fly!
Anytime you are hosting an outdoor event it is a nice gesture to provide a sun protection station for them to use. You know how it can be when you are racing to get out of the house to make it to a party on time, especially if you are bringing the kids along, the last thing you might think of is putting on your SPF. Your guests will appreciate it.
There are so many cute ideas for snacks for a beach or pool themed party. These little lifesavers as floaties are a fantastic idea. You can also use all of the different colored licorice strands and call them pool noodles.
These pool noodle luminaries are a great inexpensive way to add a little splash of color during the daytime party hours, and at night create a little ambiance for you to enjoy. These were found on Create Craft Love.
Ok now, this pool used to keep your refreshments cool seems like a must have for your party. Especially if you are planning on being in the pool and joining in on the fun. You won't have time to make drinks and serve everyone. Just throw them in a pool filled with ice and enjoy the day! This great idea was found on Pinterest Via Kimberly Fry.
These colorful sunglasses will make for awesome thank you party favors for all of your guests to enjoy during the sunny fun, and take along home with them. Found on stylemepretty.com
Author: L.Fulton-Eventsbyl