Happy Thanksgiving from Photo Booth of the Stars!  We hope you are all enjoying this day with loved ones and eating delicious food.  It seems like every year Thanksgiving comes way to quickly and ends with way more leftovers than you know what to do with.  If you are like many those leftovers that took hours of preparation and slaving over a hot stove may just get tossed.
Whether you are having your sit-down-dinner catered or making it from scratch we found some great recipes that will provide you variety while using up all that turkey and stuffing.
Want a recipe that will help your Friday breakfast to not be an all day event?  Here is a great looking recipe we found over at nutritious eats that will turn your Thanksgiving leftovers into potato pancakes.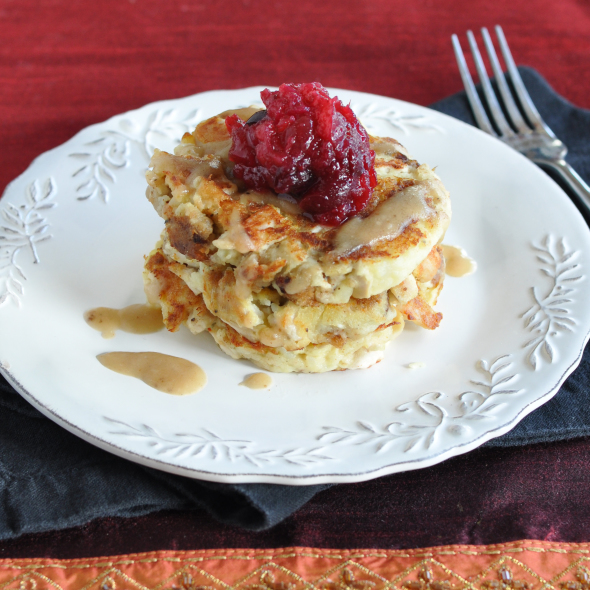 You can check out the entire article here and below is the recipe.  Yum!
Thanksgiving Leftover Potato Pancakes
INGREDIENTS:
1 cup diced turkey
1 cup stuffing
1 cup mashed potatoes (or sweet potatoes)
1 egg, lightly beaten
black pepper
2 Tablespoons oil of choice (I used half olive oil, half coconut oil)
DIRECTIONS:
In a medium size bowl, combine diced turkey, stuffing and mashed potatoes. Stir in 1 beaten egg, and a pinch of black pepper. Stir well to combine. In a large skillet, heat 1 Tablespoon of oil on medium heat. Using a 1/2 cup measuring cup, scoop out some of the mixture and drop into the skillet, using the back of the measuring cup or your hands to gently press it down into a circle.
Cook 3 patties at a time for ~3 minutes or until golden brown on the underside, flip and cook an additional ~3 minutes. Repeat with remaining oil and patties. Serve with warmed gravy or leftover cranberry sauce.
Notes
This recipe was intended for Thanksgiving leftovers but could do anytime of the year with roast chicken.
Don't those look delicious?
If it's a sandwich you fancy, we've got you covered and this recipe will have you feeling refreshed and ready to fill out your invitations for your upcoming holiday events.  It's from the Cooking Channel and couldn't be easier to throw together.
INGREDIENTS
1/2 cup Cranberry Apple Glaze, recipe follows
2 tablespoons Greek yogurt
2 scallions, white and green parts thinly sliced
1/2 jalapeno, seeded and minced
2 tablespoons whole-grain mustard
1 tablespoon honey
1 tablespoon Dijon mustard
4 focaccia rolls, split lengthwise
4 leaves green curly lettuce
4 ounces leftover turkey, sliced
1 cup leftover stuffing, optional
Pickle spears, for serving
CRANBERRY APPLE GLAZE:
2 cups apple cider
2 cups cranberries
1 cup cranberry juice
1/2 cup maple syrup
1/2 cup apple cider vinegar
Kosher salt and freshly ground pepper
DIRECTIONS
Combine the Cranberry Apple Glaze, yogurt, scallions and jalapenos in a small bowl. Whisk together the whole-grain mustard, honey and Dijon mustard in another bowl until smooth. 

To assemble the sandwiches, spread the honey mustard on the bottom halves of the rolls, and spread a generous amount of the spicy cranberry cream on the top halves. Top each bottom half with 1 lettuce leaf, 1 ounce turkey and 1/4 cup stuffing, if using, and then place the spicy cranberry cream halves on top. Slice the sandwiches in half and serve with a pickle spear.
Combine the apple cider, cranberries, cranberry juice, maple syrup and apple cider vinegar in a small saucepan. Bring to a boil over medium-high heat, and then reduce to a simmer until the liquid has been reduced by 2 cups and the cranberries have burst, 18 to 20 minutes. Season with salt and pepper, and then transfer to a blender and puree until smooth. Yield: 1 1/2 cups.
Here's a recipe you can have simmering away while you and the out of town guests are going through the pictures from your online gallery.  We got this recipe from Food and Wine.  It looks like the perfect lunch after a day full of eating and posing in your photo booth.
2 large eggs, at room
temperature
1/2 cup milk
1 tablespoon snipped chives
1 tablespoon minced parsley
1 cup all-purpose flour
1/4 cup cornmeal
Pinch of cayenne
Pinch of dried sage
Kosher salt
2 tablespoons extra-virgin olive oil
2 medium leeks, white and
tender green parts only, very thinly sliced
2 large carrots, thinly sliced
2 quarts Rich Turkey Stock
1/2 pound white button
mushrooms, quartered
1 cup frozen baby peas,
1. In a medium bowl, whisk the eggs with the milk, chives and parsley. Add
the flour, cornmeal, cayenne, sage and 1 teaspoon of salt; stir until evenly
moistened.
2. Heat 1 tablespoon of the oil in a large stockpot. Add the leeks and carrots
and cook over moderate heat, stirring occasionally, until crisp-tender, about
8 minutes. Add the stock and bring to a simmer. Cook over moderate heat
until the carrots are tender, about 5 minutes.
3. Meanwhile, heat the remaining 1 tablespoon of oil in a medium skillet. Add
the mushrooms and cook over high heat until browned, about 5 minutes. Add
the mushrooms and the peas to the soup. Season with salt and pepper. Let
simmer over moderate heat.
4. Spread 1/2 cup of the noodle batter onto the center of an inverted cake
pan. Using a large offset spatula, scrape 1/4-inch strips into the soup,
creating long, thin noodles. Repeat with the remaining batter. Gently stir the
soup to separate the noodles and cook until tender, about 2 minutes. Add the
turkey and cook just until hot, then serve.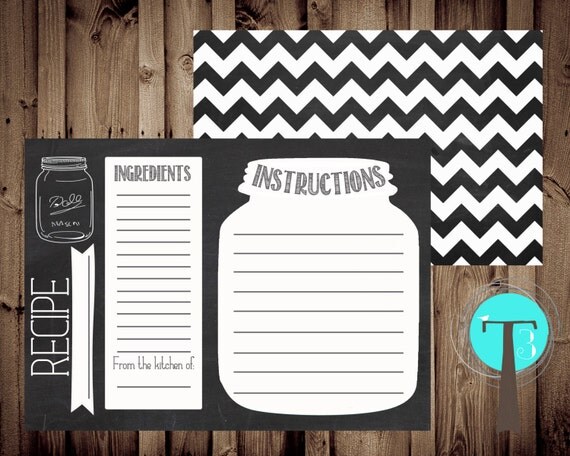 Send your guests off with some great recipe cards that include the ingredients of your leftovers.  Sometimes we just need a little encouragement to get us up and running.  How many times have you just not known what you are going to make for dinner?  You are dreading it all day long and finally you see a commercial, or a pin on Pinterest and BAM!  It clicks and suddenly you are inspired and ready to get cooking.  These would be great favors that you could create well in advance so you don't have to stress.
We hope these recipes will take some of the stress of planning your meals off of your shoulders.  Happy Thanksgiving!