It's just about time for Super Bowl 50! Regardless if you are a football fan or not, odds are you will be watching for the commercials, and of course the half time show!
If you're in need of a little refresher course to help ensure you are not clueless when it comes to the game, check out Time's Everything You Need to Know About Super Bowl 50 article. It will fully load your conversation starter repertoire for game day! You can check it out right HERE.
We've put together a fun little list of things that will kick your super bowl party to the next level! We hope you enjoy them!
Photo Credit: The Centsible Life
We think this game day paper chain would make for some lovely décor in your photo booth rental, or swagged across your fireplace, table, buffet, or anywhere really! It's adorable, and a free printable that you can print, cut, and glue with your kids. They'll have a blast making this and your guests should enjoy the extra touch. You can find it on the Centsible Life by clicking right HERE.
Photo Credit: A Night Owl Blog
We are loving this football field party table set up that we found on A Night Owl Blog. What a festive idea! You can check out how to make it by clicking HERE.
Photo Credit: Mom On Timeout
We're pretty sure this Pepperoni Pizza Football Cheese Ball will really help to drive home that you are celebrating Super Bowl on Sunday! It looks delicious and sounds like it's super simple to make from the instructions. We'll have to try it out! You can get the recipe HERE.
Photo Credit: Play Party Pin
Something really great to have around during any sports-related festivities are Bingo cards! They're the perfect solution for guests that don't really get into the game all that much, but still want to be a part of the action. You can find the ones in the pic above over on Play Party Pin and download them for free! Just click right HERE.
Photo Credit: Sprinkled With Jules
Ok, how ahhh-mazing does this pull apart bread look? Ohhhhh my! Looks like the perfect snack to munch on to us! It's sourdough pull apart pizza bread, and it only takes 5 minutes to pull together and bakes for just 30! It looks like carb loaded, cheesy, ball of deliciousness! Have to try this one out and you can too by clicking HERE for the recipe.
Photo Credit: Sugar Free Mom
Cheeseburgers are a huge hit at parties, but what's even better? Cheeseburgers on a stick! Now that will kick your party up to the next level for sure! Check out the recipe by clicking HERE.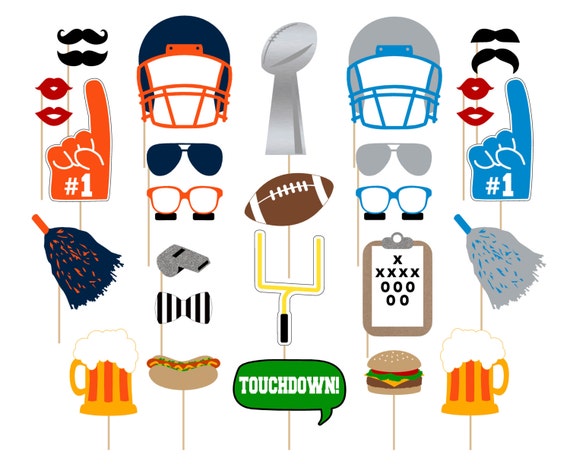 Photo Credit: The Prop Market
Don't forget to grab your photo booth props! We found these on Etsy from The Prop Market! They are a great way to have your photo booth ready for guests to capture their best poses. You can check them out HERE.
So there you have it! Some of our favorite picks for this Sunday. What will you be including in your festivities? We'd love for you to share your ideas in the comments below!