A movie party is the perfect theme for your teens, tweens, and adults. It is a great reason to get everyone together and an inexpensive entertainment option that they will all enjoy. Here are some really fun ideas we found to go with our movie theme today. As always we found them all over the world-wide-web.
When Photo Booth of the Stars thinks of movies, we think of two things….candy, and popcorn!
You have got to have a candy bar/buffet when hosting a movie themed party. We love the one we found on Catch My Party.
The little film border labels are a great detail to include. Some classic options your candy bar could contain are:
M&M's
Gummy Bears
Milk Duds
Red Vines
Swedish Fish
Sour Patch Kids
Cookie Dough Bites
Snickers
Raisinets
Skittles
Butterfinger BB's
Nestle Crunch
Sno Caps
Reece's Peanut Butter Cups
Dots
Jujyfruits
Shock Tarts
Candies Nestle Butterfinger Bar
Hot Tamales
Mike&Ikes
Nestle Crunch
Goobers
Bottle Caps
Sugar Babies
Good & Plenty
Crows
Whoppers
You can head over to Ranker.com to see a complete list of the best movie theater snacks HERE.
We found these brown kraft paper food trays including drink holders that are perfect for a movie night. You can get your set of 15 lightweight cardboard boxes on Pinklemonadeparty's Etsy store.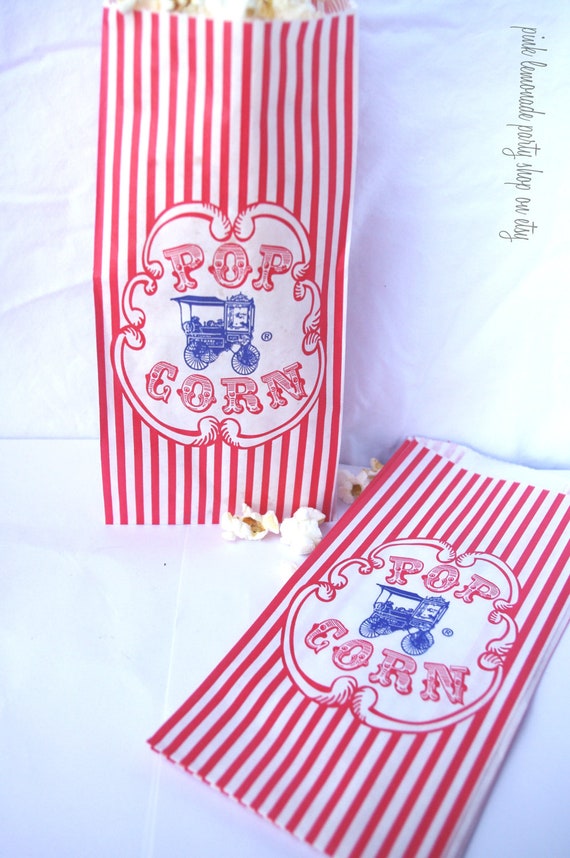 While you are there order up some of these cute vintage style wagon popcorn bags for your popcorn bar! They also have hot dog bags, pickle bags, nacho food boats, hamburger bags, and clown cupcake pics too that are super cute.
Popcorn bars or buffets are a budget friendly option that is so versatile and easy to customize. Cook the popcorn any way you like or buy pre-made which is also convenient.
Some flavors you could include are:
Cheese
Buttery
Chocolate
Plain
Caramel Corn
Bacon Popcorn
Cinnamon Popcorn with White Chocolate
Kettle Corn
You can find recipes for making different flavors at home HERE.
We love this idea for an outdoor screening using a large white sheet as the screen! You can head over to The Sits Girls to get all of the info on how to do it.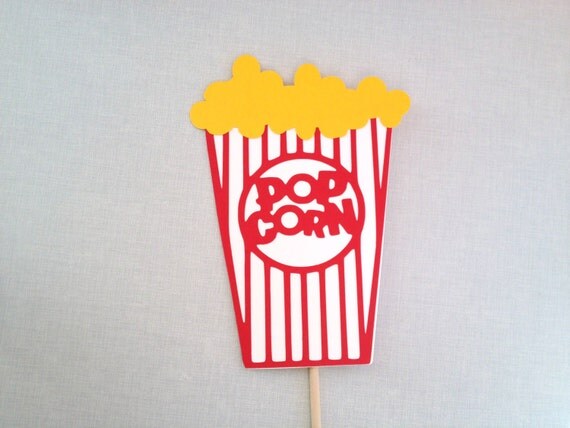 Here are some of the great photo booth props we found for you that will be a hit at your movie themed photo booth party. We love these little popcorn bags from CleverMarten's Etsy store.
This is the perfect photo booth sign for this theme. We found it on wanelo.com where you can find and buy different products online, it's similar to Etsy for those of you who may not be aware.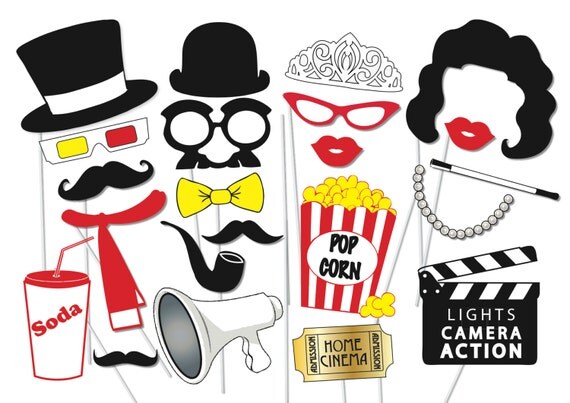 We found this set of Old Hollywood Photo Booth part props that come in a multi-piece printable set.
Here is the ultimate collection of Movie Night photo booth props! Tons of Fun!! Great for a party table center piece or photo booth.
Contains 21 pieces:
Popcorn
Home cinema ticket
Clap board
load speaker
3D glasses
20's Hollywood wig
scarf
bowler hat
crown
cigarette holder
Bow tie
2 x Set Glasses
2 x Red Lips
3 x Mustache
pipe
pearls
Soda
Top Hat
Get your set HERE!
Author:  L. Fulton-EventsbyL
Photo Credit: