Hey everybody! We hope you are having a fantastic week and soaking in this full-on fall (almost winter) weather we are having here in the Chicagoland area. Not sure about you, but around here we are intoxicated by smells of apples, cinnamon, and all things fall! We love this time of year and all of the celebrations and festivities that it entails.
Today we wanted to talk about Halloween of course – it is this weekend after all! We found some really cool ideas for you to have a spook-tac-ular (ok we'll stop now) time this weekend!
Photo Credit: Brit+Co via Pinterest
If you are thinking of creating a custom photo booth backdrop and looking for a little (or a lotta) Halloween inspiration – Brit+Co has you covered. Check out their top 10 Halloween Photo Booths Your Party Needs for unique ideas that will wow your guests! You can see them all by clicking right HERE.
Photo Credit: Haunt 31
Want to really shock your guests? This electric chair should do the trick! This would make quite the photo booth backdrop and really set the tone for a festive and spooky Halloween night! You can check it out by clicking right HERE.
Photo Credit: One Creative Mommy
You can't have a photo booth without some photo booth props now can you? We found these over on One Creative Mommy and best of all – they are a free download!
The free set includes:
Frankenstein and Quote
The Bride of Frankenstein
2 Bat Masks
Harry Potter Glasses and Quote
Vampire Teeth (with and without mustache)
Vampire Quote from "Hotel Transylvania"
BOO! Glasses
Silly Mouth
Head on over and click your set by clicking right HERE.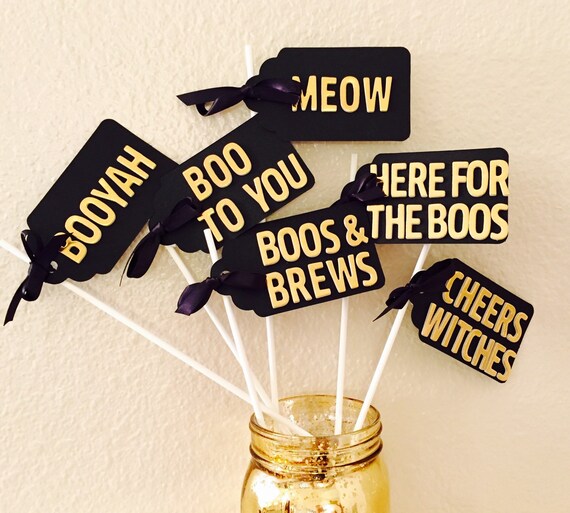 Photo Credit: Girly Gifts 07 via Etsy
Maybe you are looking to host a glamorous, more sophisticated celebration – these photo booth props we found over on Etsy are just for you! There's just something about black and gold that is strikingly sophisticated and adult! We especially love that these props are decorated in gold foil lettering and attached to sticks for your convenience. Sold individually, you can snag the following pieces:
Booyah
Boo To You
Meow
Here For the Boos
Boos & Brews
Cheers Witches
You can order your set by clicking right HERE.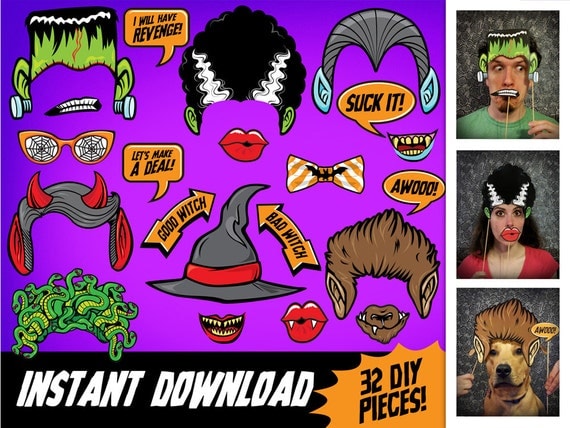 Photo Credit: Zinggia via Etsy
In a pinch for some last minute props? You are going to love these we found on Etsy from Zinggia! You can check out the instant downloadable set of 32 – yes – 32 props by clicking right HERE.
Photo Credit: Applegate
Guests big and small alike are going to love these spooky baked tortilla chips that we found on Applegate. Such a cute idea and will make for a wonderful themed staple amongst your spread. You can see how to make them by clicking right HERE.
Photo Credit: Pilsbury
These crescent mummy dogs are all the rage right now – and for good reason! They are the perfect snack for your party – who doesn't love a hot dog, and dressed like a mummy?!? Winning! Check out the recipe by clicking right HERE and enjoy!
How are you getting ready for this weekend's festivities? We'd love for you to share your ideas below! Happy Halloween from Photo Booth of the Stars!