Photo booths have become a staple at weddings, proms, red carpets, and every other special event in between! At Photo Booth of the Stars, we have so much fun checking out all of the photo booth props online. We decided it's time to throw together a roundup of fun props. There is such an abundance of free props that we wanted to kick off our photo booth prop roundup with all free props!
Let's kick this roundup off with some summer time fun that will have you craving the warmer days to come! We found these colorful, lovely props on Capturing Joy with Kristen Duke. Just click right HERE to get the free printables and let summer come a little bit early in your home!
Lips and mustaches have been all over the place for a quite some time now and it doesn't appear that they are going out of style anytime soon. They fit in with every type of celebration which makes them a must share here at Photo Booth of the Stars. We love these from Fox Hollow Cottage. Click HERE to head over and get your own printables to cut out and prop on a straw or stick.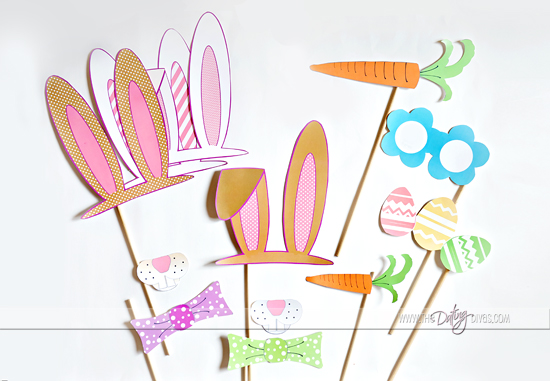 Since Easter is only a 'hop' away, we had to share these adorable Easter themed props in the roundup. We found them on The Dating Divas. The little bunny ears and noses are just too darn cute! The colors are so bright, fun, and cheerful that if you weren't considering having a photo booth, you will be now! Click HERE to get the printables and make your own photo booth props.
Children's parties are a great reason for a photo booth rental. Just about every kid in the world loves grabbing a prop and striking a pose in a photo booth! The movie Frozen has caused quite a stir in the party world so we're sharing these Frozen Photo Booth Props from One Creative Mommy. Click HERE to get yours. The kids are going to love these!
We love this collection of Hat Photo Booth Props that can tie into any event. From the crown to the joker's hat, your guests will get a kick out of all of them. Don't hesitate to use any hats that you have laying around the house either, use them in the photo booth too! Click HERE to get these Hat Printable Props from Accent the Party.

Accent the Party
Lastly, we are sharing with you, this fun batch of random props that will make for some really candid shots from your photo booth. We just love the little coffee cup and the margarita – too cute! We can just imagine the fun these will be at your next party! Click HERE to get them.
What are you favorite props that you have used in your photo booths?
Author: L. Fulton-EventsbyL