Photo Booth of the Stars knows every bride wants their wedding to be a day all of their own.  You want to break out of the mold and have a standout celebration!  Here are some ideas we love for making your day unique and true to you.
You can create a stunning lounge area for guests entertainment with out breaking the bank.  You can easily find vintage furniture from craigslist, or a second hand store for a fraction of the price of renting it.  Find pieces that work with your décor and go together in some way.  They don't have to be matchy-matchy mix it up and create a fun space for guests to converse throughout the evening.  If you are planning an outdoor reception, this is a really pleasant touch that is rather unexpected.
We love the look of this vintage inspired lounge area!  None of it matches but it doesn't matter.  It is classy, elegant, and rather inviting.  We would surely sit on that couch with champagne in hand!  The mis-matched side tables are such a cute touch as well.  Be sure to leave room for guest's appetizer plates and cocktails though.
When it comes to wedding details there is no right or wrong answer.  Go with what you love and forget the rest.  You do not have to purchase the typical fully tight rounded bouquet.  We came across this loose just picked arrangement and relished in the exclusive beauty.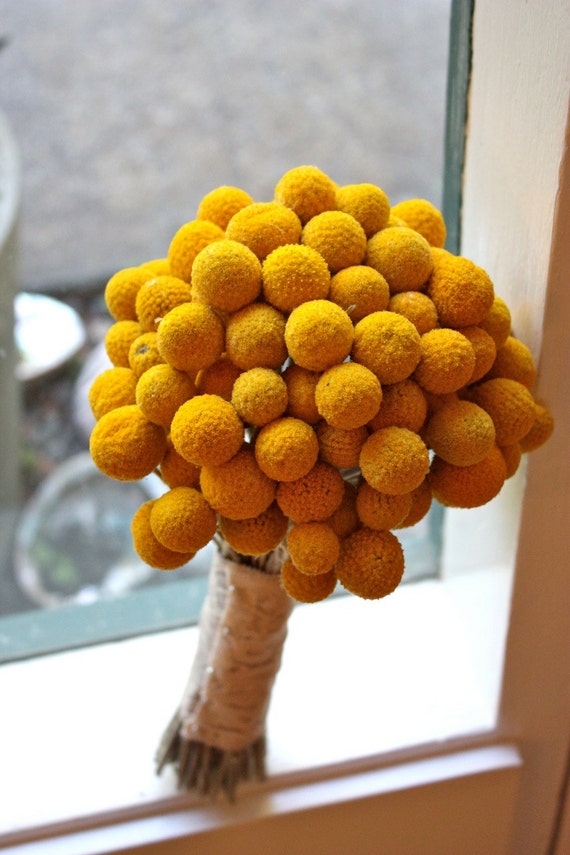 Isn't this clean craspedia bouquet just exquisite for a fall wedding?  In case you are not familiar with this honey yellow ball of beauty, it is also known as Billy Ball flowers.  They are available all year round, and are native to Australia and New Zealand.  These are truly unique on their own, or any addition to your bouquets.  Many florists offer them tinted in a variety of colors to meet your needs.
Don't settle for the classic guest book that usually ends up lost in a box somewhere or collecting dust on a shelf!  Instead, get original.  Is there something meaningful that you cherish such as the poster from the movie you saw on your first date?  Why not use that as your guest book.
If you fancy entertaining and playing games, use Jenga for your guests to write on.  Every time you play you will be reminded of your beautiful day.  If you collect wine corks or other items use them!  If you love to travel feel free to use a map.
We are overjoyed when couples incorporate their photo booth rental and allow guests to sign their photo strip and leave you a special message.  Imagine flipping through the pages and seeing all of your closest friends and family members goofy and candid photos.  It truly is a euphoric experience for newlyweds.
We LOVE the idea of this quilt guest book idea.
The options are truly endless and if the thought of a guest book slips your mind.  Don't panic, just use what you have!  No one will know, and it will actually look like you put time and planning into this decision.  It's a win-win!
Check out this DIY ring bearer box we came across and of course and fell in love with it at first sight!  We hope this post inspires you!
All photos are courtesy of Pinterest.