With all of school cancellations due to cold-weather, and then Martin Luther King Jr. day this week, our Photo Booth of the Star's staffers got to thinking about all of the fun activities that make snow days/cancellations so darn special.
If you think back to when you were a kid – and for some of you it may not have been that long ago, what was better than hearing or seeing the name of your school listed in the school weather closures? Ummm….nothing! That was so exciting, and even more so if you had an exam or a book reading due the following day that you were not prepared for. Score!
We Photo Boothers thought it would be really fun to put together some photo booth fun fit for a day off of school, work, or really any day!
Make a Giant Photo Booth Style Picture!
We love, love, love this photo booth fun inspiration from Girl in Air! You can check out her really easy to follow step-by-step tutorial here.
Now here's some really fun inspiration we found over on Sugar Aunts. We know, we know, Christmas is over, but use your imagination and think of the endless possibilities you can create with this idea. The bean bag toss activity is a great idea that not only the little ones will enjoy. Best of all, cut the holes big enough and they can stick their heads inside the cutouts for photo opportunities.
This little snowman is just what any snow day photo booth needs! Wouldn't your kids just love it? You can check out the info on these adorable cutouts right HERE. (Just click on the word here and it will take you away to the info.)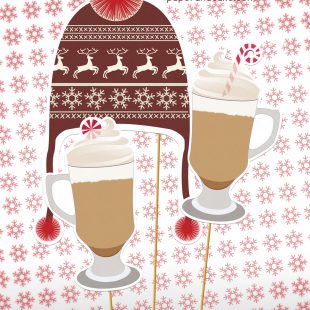 Are you ill prepared for a snow day and have no idea what to do to keep the kids entertained? Printable photo booth props will be your new best friend. How cute are these little photo booth props that you can just purchase, print, and cut. Let the kids do it! Keep them busy and they are going to have a blast with them. This particular set includes:
Lips and Mustaches, Snow Beanies, Snowman, Gingerbread, Snow Globes, Hot Cocoa, and more! You can check them out right HERE and either purchase yours or bookmark it for the next snow day.
We just love this branch with snowflakes hanging down from it. Why, it certainly would make an exceptional photo booth backdrop. Let the kiddos have their fun by making the snowflakes and string them along to be hung from the branch.
It seems like it would be a simple DIY that could use some fish wire, or clear thread and sew it through the snowflakes. Once you have your snow flake strands you could use some eye hooks to hang the flakes down from the branch. Once assembled, let everyone strike a pose in front of the DIY photo booth back drop so they can review and admire their hard work.
We think some hot chocolate would be most suitable afterwards. What are some of your favorite memories, or things you share with your family on snow days?
Author:  L. Fulton-EventsbyL