This Sunday, the Beverly Hilton will be holding The 72nd Golden Globe Awards in their infamous International Ballroom. Tina Fey and Amy Poehler will be providing hilarious entertainment while co-hosting the extravagant affair. This will be their final time co-hosting the award show so we are looking forward to what exciting and memorable antics the two will come up with this year.
Photo by Erin Franzman via Los Angeles Magazine
It's always entertaining for Photo Booth staffers to check into what the elite will be feasting on during these award shows. We found a sneak peek over on Los Angeles Magazine. It sounds incredible. Attendants will be starting with Modern Waldorf salad which forgoes the traditional mayonnaise based dressing and uses a lemon emulsion instead. Mmm!
Photo by Erin Franzman via Los Angeles Magazine
Next, will be a delicious surf-and-turf duo featuring Filet Mignon and Arctic Char and vegetarians can feast on a delightful cannelloni.
Photo by Erin Franzman via Los Angeles Magazine
Once guests have indulged in enough goodness throughout dinner, there will be a delectable dessert trio that words won't be able to describe. It looks out of this world.
For those of you that will be enjoying the show from home with your photo booth rentals, there is no reason you can't celebrate right along like you are at the Golden Globes right? We found some red-carpet worthy ideas that will have you feeling like you are among Hollywood's elite this Sunday night.
First, invite over some friends to watch all of the Red Carpet fun. We love this glamourous golden invite you can customize and send from Paperless Post. It will really set the tone for your evening. If you would prefer to send an actual mailed invitation they have a huge variety of options for you to choose from as well.
Once your guests have arrived, the best way to help provide stress free entertaining is to have a signature cocktail. You can also have some items like beer, wine, juices, and sodas set out on ice for guests to help to serve themselves. Be sure to have an ice bucket ready for guests who want to help themselves to re-fills or make something else. This way you get to enjoy the show too!
Photo by The Effortless Chic via Bustle
The Golden Globes are celebrated with champagne and your soiree should be too! Try one of these 9 Champagne Cocktails or all of them from Bustle. They are sure to help you forget about the cold snowy weather we are having here in the Chicagoland area. Brrrrr!
There's no better way to warm things up than with a photo booth rental and award shows always have one to capture this year's nominees and fun moments.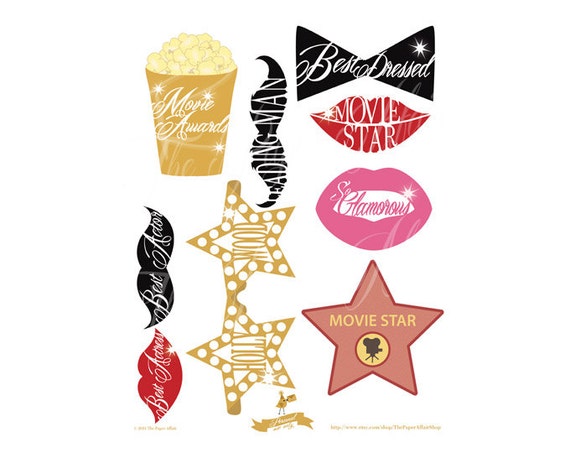 Photo via ThePaperAffairShop on Etsy
These instant download printable photo booth props are perfect for your event. You can order up yours from The Paper Affair Shop's store right on Etsy. Just order them up, print them out, cut and attach them to dowels, wires hangers, or whatever you have laying around to use. It's going to be a blast!