According to the United States Department of Labor "Labor Day, the first Monday in September, is a creation of the labor movement and is dedicated to the social and economic achievements of American workers. It constitutes a yearly national tribute to the contributions workers have made to the strength, prosperity, and well-being of our country." For most of us it's also and end of summer party that is destined for grilling!
Photo Booth of the Stars wants to share some wonderful ideas on how you can celebrate this holiday!
Photo Credit: SHUTTERSTOCK found on Divine Caroline
Cocktails! You've got the day off after all right? That deserves a celebration, and this electric lemonade we found on Divine Caroline should hit the celebratory spot! It sounds deliciously refreshing with ginger ale and fresh mint leaves – yum! Check out the recipe by clicking HERE and be sure to let us at the Photo Booth know how you liked them. Be sure to drink responsibly.
Photo Credit: Balloontime
Make a splash at your Labor Day festivities this year! Whether you are having a backyard BBQ, or hosting an all-out bash – your guests will love these DIY beach ball balloons we found on Balloontime. Check out how to make them by clicking HERE.
Photo Credit: The Style Files
This Summer Fruit Garland will make an excellent addition to your photo booth backdrops and your outdoor party space. This adorable DIY comes complete with printable templates, so there is no excuse for you to make it! Enlist some of the kiddies to help make it and we think they will all have a blast doing it! Click HERE to check out the tutorial.
Photo Credit: Skinny Mom
Salads are so refreshing on hot days and this Mexican Shrimp Cobb Salad we found on Skinny Mom is no exception. Have you ever been to a BBQ, or party, and have seen that the salad dish kept getting passed up by guests? That is not this salad!
It looks too good not to eat! The combination of shrimp, avocado, corn, black bean salsa, cucumbers, tomatoes, and cheese layered are a winning combination. Topped with a cilantro tomatillo dressing, you might need to make seconds of this one! Click HERE to get the recipe.
Photo Credit: Kristen Duke Photography
Be sure to head over to Kristen Duke's page and snag this set of free photo booth printable props. They are the perfect fit for a summer time event! Click HERE to get yours, so you and your guests can strike your photo booth poses and have endless memories of the fun!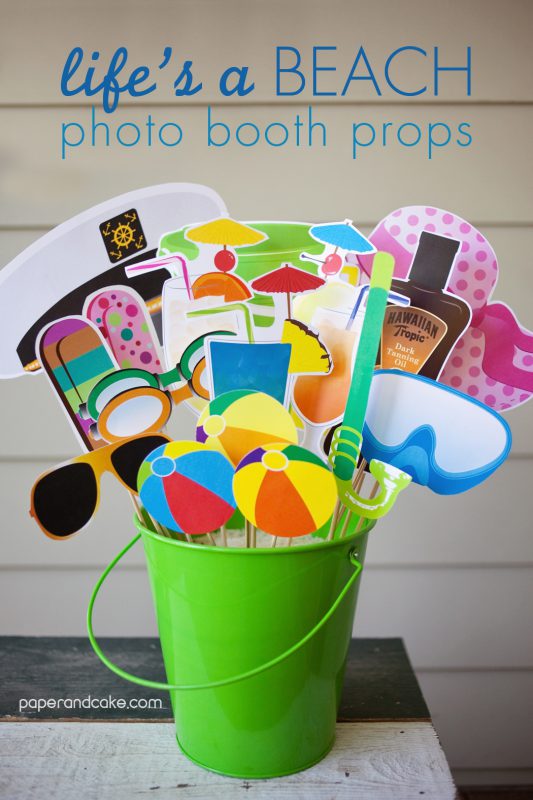 Photo Credit: Paper and Cake
Be sure and grab a set of these beach photo booth props from Paper and Cake. They come complete with mustaches, lips, beach balls, sun tan lotion, sunglasses, floppy beach sunhats – and more! Click HERE to get yours.
Photo Credit: Kraft
These JELL-O Firecrackers we found on Kraft will be a wonderful compliment to the festivities. They are the perfect dessert for any kind of patriotic holiday, just click HERE to get the recipe!
Photo Booth of the Stars would like to wish you and yours a happy and safe holiday!
How are you celebrating your labor day?