Happy July everyone!
It's so hard to believe how quickly July has come around once again. Are you all ready to celebrate America's Independence Day? Photo Booth of the stars is!
Last week we covered some delicious 4th of July food ideas and today we are covering the décor and other fun filled items to kick off the celebration.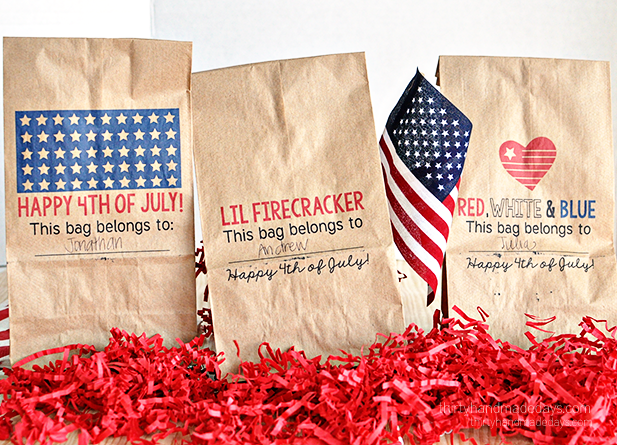 Summer weather is in upon us and if you are heading out to the park this week for a picnic, you are going to love these printable patriotic lunch bags from 30 Handmade days. If you weren't planning an upcoming picnic these little bags will make you want to go on one! They would be equally brilliant to use as favors for your 4h of July party.
Head on over to 30 Handmade days and get the printable so you can get your bags printed and ready to go.
Now, since the 4th is right around the corner you better get those invitations sent out stat. Of course you can always go the e-vite route and get your invitations on evite.com which is a great way to get the invites out with a quickness.
But if you do have a little time on your hands a mailed invitation always seems so much more special. They don't even have to cost a dime. You can get some free party invitation pintables at Moritz fine designs. There are 5 different options to pick from and each one is as cute as the next.
Add some light ambiance to you backyard gathering with these awesome patriotic luminaries found on Hometalk by Melissa@KeepCalmandDecorate. If you are going to be outside then sticking a citronella candle in would be a must.
This is a great way to recycle your used glass candle holders and is great inspiration for so many other ideas and holidays.
We are loving these patriotic lip and mustache photo booth props for you to print cut and enjoy! We got them off of Fox Hollow Cottage. They are so adorable and will be an excellent touch for your photo booth rental.
If you will be attending a parade held for the 4th of July, you will want to make some of these adorable wands to tote along with you and get celebrating. You can find the DIY on Eighteen25 which is very simple to make and only takes a few items including wooden dowels, some different ribbons of your choice. You can use anywhere from 3-10 depending on your preference and they can be red, white, blue, and whatever patterns you desire. Other than that you just need some screw eyes, and spray paint if you wish to paint the dowel rod in a color. Very easy!
Want to really impress your guests at your party? Create some star-quality lawn décor by taking a star stencil and some white flour. You could edge your entire out door space, walkway, or where ever you feel these stars would make a nice touch.
Have a fun and safe 4th everyone!