We're pretty sure many of you have weddings on the brain!  Tis' the season to get engaged and if you have already started the wedding planning process then you may be feeling a bit overwhelmed with all of the options out there.  It can be tricky to zero in on what you truly want and the endless hours of Pinterest surfing are probably not helping you.
The most important thing to remember is that the day should be about you and all of the things that mean the most to you to make your day spectacular.  Also, you want to make it a day memorable to all of your guests and not have them eyeing the exits half way in the reception.  Go ahead and take a break from sifting through all of the DIY's know to man that you could include and check out these ideas to liven up your wedding reception so everyone has the time of their lives!
The Wedding Program
Weddings almost never start on time so your guests end up waiting around a bit for all of the fun to begin.  Guests can get a little anxious, especially if the weather conditions end up not being ideal.  Give your guests something to do to keep them comfortable while you prepare your walk down the aisle.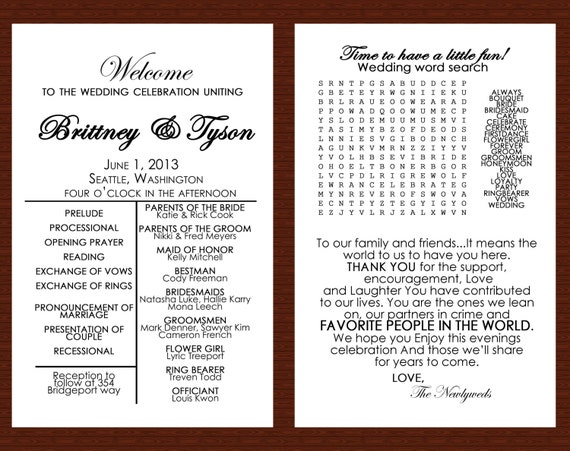 Your guests will certainly appreciate if you fill your program with fun facts about the bride and groom and wedding party.  You can share a lot of interesting facts with them from how you met your fiancé, to how you chose your maid of honor.  This will not only provide your guests a little entertainment while they are waiting for your magical walk, but it's also an opportunity to make your wedding extra special and intimate for everyone.
Hire a planner or at least a Day of Coordinator
You have spent endless hours choosing flowers, selecting napkins, chargers, flatware, the photo booth rental, etc.   Umm….who is going to see to it that they all show up and set up accordingly?  I think you might be a little too busy posing for pictures, saying I-do, cutting your cake, you know getting married and celebrating your union?  Hiring a planner or coordinator is the best way to keep your plans in check and ensure the execution goes the way you had envisioned for however long you have been tirelessly planning this joyous occasion.
Have Good Food!
Multiple Grilling Sections are a great way to incorporate delicious food while allowing guests to mingle while they munch!  No stuffy wedding here, just good people, good food, and great memories.  Try to think of what foods you would want to eat.  One of the biggest complaints we have heard from wedding goers is the food was blah.  That is the worst thing that can happen because even if you had Elton John signing at your wedding the first thing your guests will typically comment on is, "The food was so bland, but they did have Elton John singing so that was awesome."
In case you didn't know tradition has been tossed out the window for years now.  You don't have to have a sit down dinner at your reception.  Today weddings are completely tailored to each bride and groom thus creating a multitude of menu options to choose from.  From Spanish tapas, big Italian dinners, pizza buffets, burger stations, etc.  We are really excited to see what 2014 has in store for menu items at all of the weddings our photo booths will be at.
Call our Chicago area Photo Booth of the Stars office today at 815-975-8762 and reserve your date 2014 is booking fast!