It's time to get prepared for the Kentucky Derby! It's by far, one of Photo Booth of the Stars' favorite events to celebrate. The fashion, mint juleps, roses, and of course the beautiful thoroughbreds – there is so much to love! We've put together the ultimate inspiration that will have you ready to join in on the festivities!
Photo Credit: She's Kinda Crafty
This Rose Derby Wreath makes the perfect entrance as your guests enter the Derby Party – we love it! Stacy over at She's Kinda Crafty made this beauty by cutting a styrofoam wreath form into the shape of a U. She glued pretty ribbon along the sides and back to camouflage the foam, and hot glued faux roses all along the front of the wreath. Awesome idea and it turned out beautifully.
Stacy made her gorgeous wreath to present to the hostess of a Derby Party. What a great gift idea!
Photo Credit: Chris Nease from Homes.com
We found the above picture along with several lovely party tips for the Kentucky Derby over on Homes.com. We adore the centerpiece idea shown up above – especially that moss mat runner! The little toy horses are from the Dollar Tree and are wearing a piece of cloth with attached felt number stuck to them. It's a stunning centerpiece arrangement and we can't wait to mimic it! You can head over to check it out, as well as all of the great ideas for your spread by clicking HERE.
Photo Credit: Taste of Home
The Mint Julep is THE traditional cocktail enjoyed at the Kentucky derby – it's only right to include them at your party! Guests of all ages can 'wet their whistles' with these Mock Mint Juleps that we found on Taste of Home. It's always fun to honor a signature drink at an event, and it's even better to have an alternative non-alcoholic option for people to enjoy as well. You can check out the recipe for the mock-tails by clicking HERE.
Photo Credit: Martha Stewart
For a classic bourbon filled Mint Julep, we turned to Martha Stewart to get the recipe. Do you like your mint crushed or whole? It's always a big debate at our Photo Booth of the Stars Derby Party! You can click HERE to get the delicious recipe and enjoy responsibly!
Now, it's time for photo booth fun! We think we found the ultimate sets of photo booth props and hope you love them as much as we do!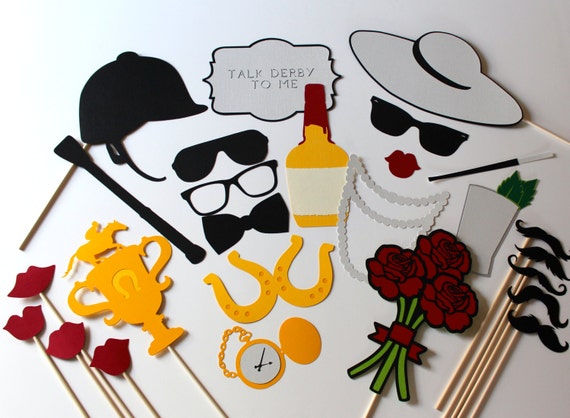 Photo Credit: Etsy via Paper and Pancakes
With 26 props to choose from, your guests are going to have a ball choosing between the horseshoe, trophy, horseshoe glasses, roses, long cigarette, and more. You're photo booth rental is sure to be rocking all day!
Just click HERE to get your own props.
Photo Credit: Creative Sense Co.
We just love these bright and playful instant downloadable props as well. You can print out an entire kit for your party that includes party toppers, food/drink flags, mini bunting, and much more in addition to the props shown above! Click HERE and you can get in on the fun!
How will you be celebrating the run for the roses?
Author: L.Fulton-EventsbyL