We are so excited for the 2015 Oscar Award Show tomorrow, and it is finally almost here! Whether you are planning to have an intimate quiet evening in, or throwing an over the top soiree – make it award winning with these fun, Oscar-worthy ideas.
We love this infographic from Cosmopolitan that shows every dress worn by Best Actress Academy Award Winners. It's so interesting to look throughout the years and see how the styles have evolved. What year will you pick to wear so you are red-carpet ready for your Oscars event?
Is it obvious why Photo Booth of the Stars loves these Hollywood Stars from Party Invitations? You can head over and use their free printable template to make your guests their very own Hollywood Boulevard Star. They would look really cute hung as décor, or you could have them set right on the table to use as place cards.
Be sure to head over to Sugar and Charm and get these fun and classy Oscar Ballot Printables. Everything is better when games are involved and with these printables it couldn't be easier to include one at your party. You can get your free printable ballot HERE.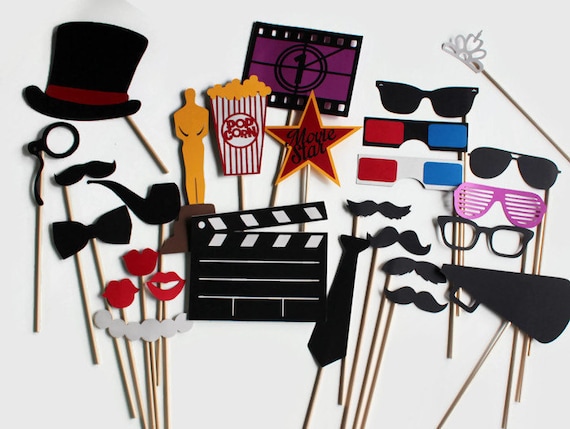 These photo booth props are just the right fit for an Oscars Party! The whole set includes 27 photo booth props:
– 5 Mustaches
– 1 Top Hat with Red Band
– 1 Pipes
– 1 Monocle
– 1 Royal Purple Shutter Shades
– 1 Pair of Wayfarer Sunglasses
– 1 Pair of Aviator Glasses
– 1 Pair of Magnum Glasses
– 2 Pairs of 3D Glasses
– 1 Black Bow Tie
– 3 Red Lips
– 1 Tie
– 1 Tiara
– 1 Pearl Necklace
– 1 Megaphone
– 1 Directors Clapboard Sign features Chalkboard Vinyl for easy Customization (shipped with dowel unattached so you can have the option to hold with hands. Will attach upon request)
– 1 Movie Star
– 1 Popcorn
– 1 Award
– 1 Film Countdown Frame
Be sure to head over to Etsy and check out Paper and Pancakes so you can order your Prop Set HERE.
If you are looking for an easy, inexpensive, and dramatic photo booth backdrop, these golden balloons are it! This is the perfect setup for a last minute party that will have your guests thinking you have been setting up for hours on end.
We found this inspiration over on Ruffled Blog. The setup was originally used for their Valentine's Day shoot, but it is so chic that it could be incorporated in a variety of occasions.
Make sure to order your Oscar Statuette Cookie Cutter we found on PopSugar! These little guys would make a wonderful favor for your guests to take home with them right alongside their Hollywood Boulevard Star! No one will be doing the walk of shame with these items by their side!
You can order your cutter HERE from Down Town Dough so you can whip up a batch of Oscar Cookies, or make an adorable Oscar cheese platter. Now that deserves an award!
What are you doing for the Oscars?
Author: L. Fulton-EventsbyL