Halloween is this weekend so it's only fitting that the internet is a buzz with Halloween costume tips, ideas, and tricks. Photo Booth of the Stars has been tracking the good, the bad, and the ugly among them and we have got to share some of them with you.
We love this cloudy with a chance of rain idea. It is the perfect costume for getting a good chuckle at your upcoming costume party or bar crawl. We're pretty sure you already have all of the items needed to make it right there at home. Just grab a sky blue colored shirt, or scrubs, some cotton balls, and a spray bottle to create this costume doozy. We found it over at DumpYourFrump.
If you loved 50 Shades of Grey then you will love seeing Christian Grey costumes on Halloween! Prepare to be Greyed this year.
This Bag of Eminems is a perfect idea if you get a last minute invite to a party and need an easy-to-make costume idea. Just print out some pictures of Eminem and slap them on a garbage bag. Done and done -now you are ready to go and get your party on. Thanks to Cosmopolitan for these two ideas.
We love this idea for moms and daughters that will be heading out for Trick-or-Treating. Hopefully the weather will be as nice as it was today and you can just sport an LBD. We found some other really good ideas over on HubPages that are fun and simple to create right at home.
If you are on the prowl for some work-friendly costumes, check out these interesting ideas for you on LifeAlaWife. This scarecrow costume is perfect for the workplace and what a great DIY.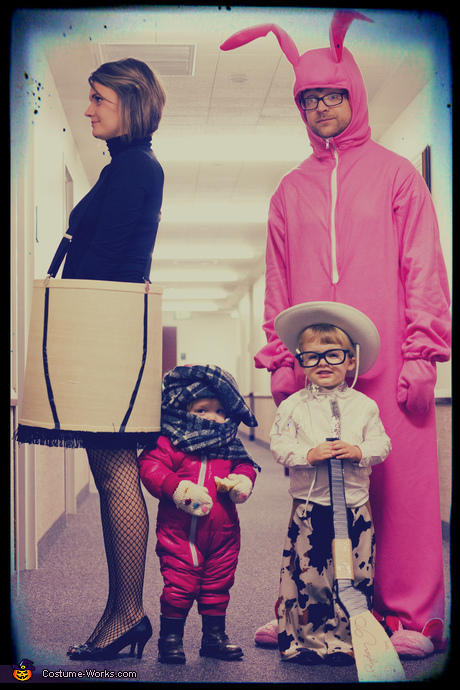 Looking for costume ideas that the entire family can get in on? We found the mother-load over on Costume-Works. There are tons of really fun and creative ideas that you wouldn't even dream of.
A Christmas Story is a classic holiday favorite movie for everyone. Show it some love this Halloween too by going creating this look.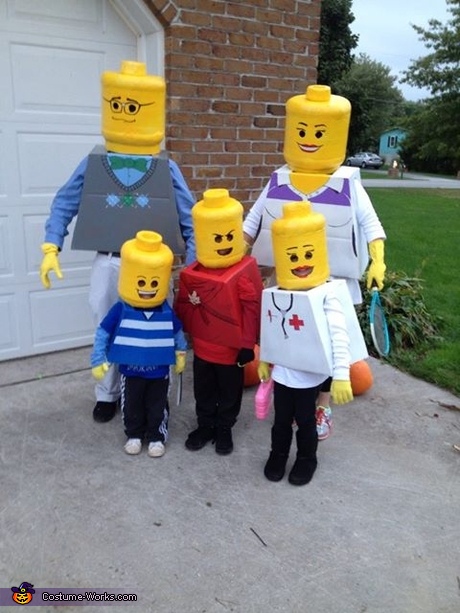 Who doesn't know what legos are? Lego costumes will be a hit throughout your neighborhood while you are going door to door with the kiddos. Get a great big group together for this one. The more the merrier! (This ideas was also found over on Costume-Works.)
If getting all dressed up for Halloween isn't quite your thing, you can still join in on the festiveness with this silly spider hairstyle. Get in the spirit and re-create this look from Makezine. This is a really cute idea for teachers whose students will get such a big kick out of it. Love the idea!
We thought we would end this with one more last minute, super simple, DIY for you. The Identity Thief costume couldn't be easier for you to pull together.
Happy Halloween!
Author:  L. Fulton-EventsbyL
Photo Credit:
Cloudy with a Chance of Rain – DumpYourFrump
50 Shades of Grey – Cosmopolitan
Bag of Eminems – Cosmopolitan
Audrey Hepburn – HubPages
Scarecrow Costume – LifeAlaWife
A Christmas Story Family Costume – Costume-Works
Lego Family Costume – Costume-Works
Spider Hair – Makezine
Identity Thief – Funcage