Photo Booth of the stars has been busy getting ready for Halloween and we have been having a spooky good time doing so. If you are hosting a Halloween bash this month, attending one, or even participating in a work function, you know there will be a photo booth ready for action. Get your photo booth props ready now, so you can pose and join in the party later.
We always find the best inspiration online and there are so many resources to choose from now thanks to Etsy, and Pinterst. Even better, you can find an abundance of pintables, (many for free) that you can just cut out and enjoy. We know how convenient those are for those times you may have forgotten to order your fun props and don't have the option to wait for them to arrive at your door.
(Not that that ever happens to any of us.)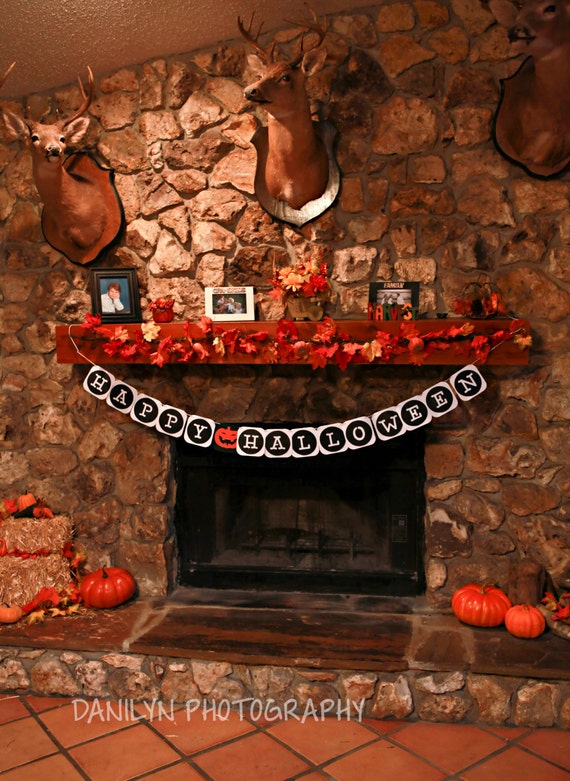 Since you still have some time before Halloween, you can hurry on over to Etsy, and grab this adorable Pumpkin Happy Halloween Banner to include in your decorations.
Each letter is approx 4.5″ tall
This Happy Halloween banner is made from 2 layers of durable card stock, and strung on pretty natural tone or crisp white bakers twine, (depending on which I have in stock). The letters are all movable so you can space them out if you like, or have the letters closer together, your choice.
The banner folds up nicely too so that you can store it away and re-use it each year.
This 15 piece photo booth prop set features 3 different style vampire lips. These will be a hit at your bash!
If ordering the photo booth props may have slipped your mind, don't worry, here's some instant downloadable props that your guests are going to love.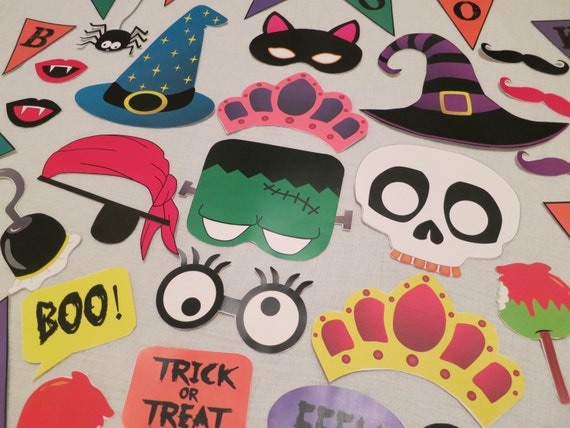 This set includes a whopping 25 kid friendly props!
The 25 photo booth props are:
– 1 witch hat
– 1 wizard hat
– 1 pirate bandana
– 1 pirate eye patch
– 1 pirate hook
– 1 Frankenstein mask
– 1 skeleton mask
– 1 black cat mask
– 2 princess crowns
– 2 googly eyes
– 2 caramel apples
– 3 festive mustaches
– 2 vampire lips
– 1 hanging spider
– 3 speech bubbles ("boo", "eek", "trick or treat")
– 1 banner
– 1 "grab a prop and strike a pose" sign
We found these kid friendly props over on One Creative Mommy.
The printable includes:
Frankenstein and Quote
The Bride of Frankenstein
2 Bat Masks
Harry Potter Glasses and Quote
Vampire Teeth (with and without mustache)
Vampire Quote from "Hotel Transylvania"
BOO! Glasses
Silly Mouth
If you have kids at home that love a good project then these instant downloads are a great idea for you. Just print them out, preferably on card stock to make sure they are as sturdy as possible, then let them cut them and tape or hot glue them to wooden sticks, or skewers.
You could make it an outdoor activity as well, and have the kids go gather sticks to use in lieu of the wooden skewers. Kids always love a good scavenger hunt.
Have fun with your photo booth props this Halloween!
Author:  L. Fulton-EventsbyL
Pumpkin Halloween Banner – CreativeButterflyXOX
Vampire Lips – BeBopProps
25 piece set – ChelaWilliams
Halloween Prop Printable – OneCreativeMommy